Resistivity & conductivity mapping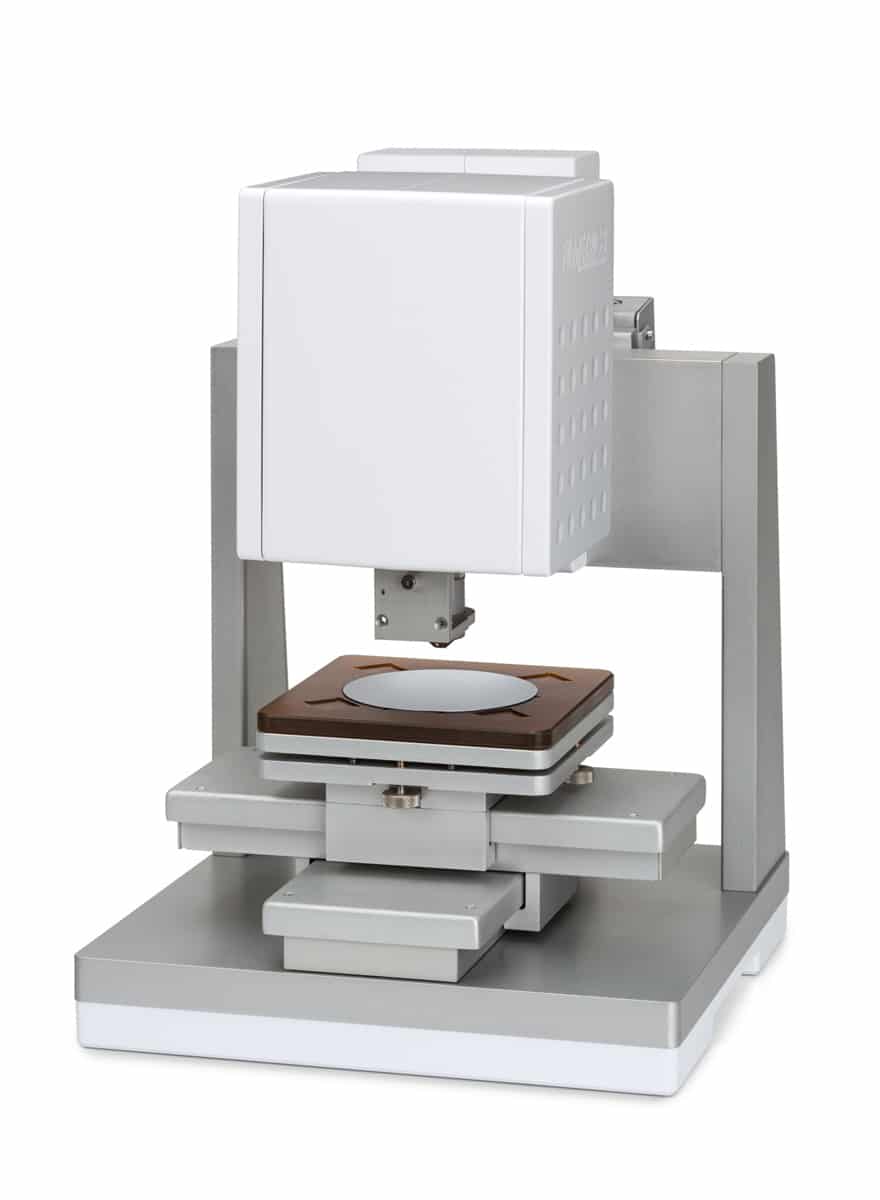 1. Four-point probe and eddy-current probe systems
2. Sample mapping in rectangular, linear, polar and custom configurations
3. X-Y travel up to 200mm
4. Measure a ten-decade range of sheet resistance on conductive and semi-conductive films

5. Contact and non-contact measurement
Filmetrics® sheet resistance measurement tools marry the technology developed and perfected by KLA for over 30 years with the bench-top instrument technology developed over the last 20 years by the Filmetrics team. KLA technologies include both contact and non-contact methods. The Filmetrics family of sheet resistance measurement instruments can measure conductive sheets and thin films deposited on various substrates
A wide range of measurements are being supported, including but not limited to the following:
Semiconductor wafer substrates
Glass substrates
Plastic (flexible) substrates
PCB patterned features
Solar Cells
Flat panel display layers and patterned features
Metal foils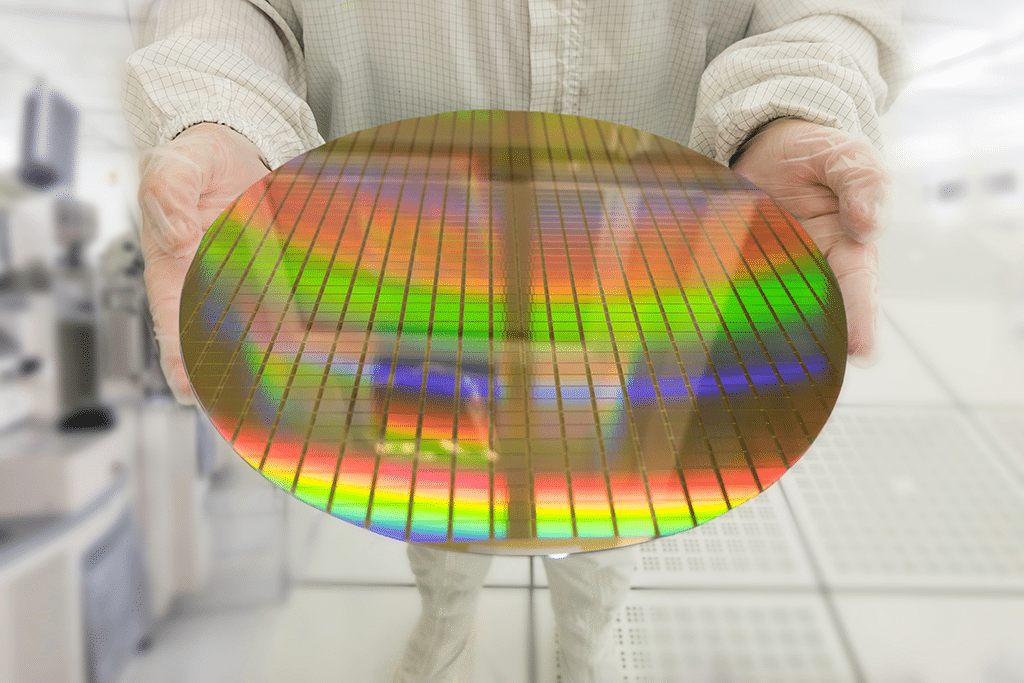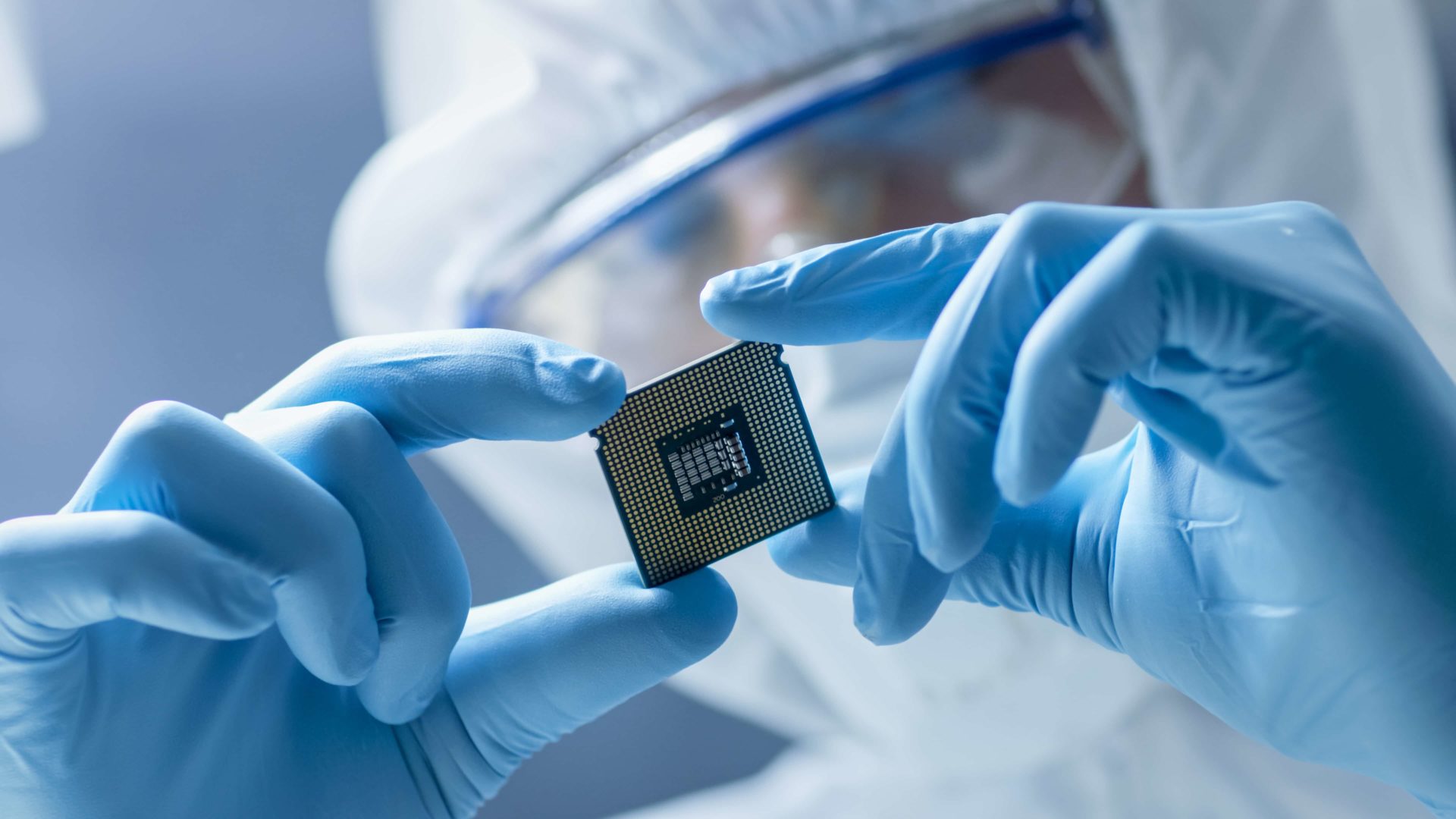 More info on applications
- Height of steps
- Texture: roughness and waviness
- Bow and shape
- Edge RollOff
- Examination of faults
Automated resistivity / conductivity mapping of films
The Filmetrics R50 series provides contact four-point probe (4PP) and non-contact eddy current (EC) measurements. The R50 maps conductive film resistivity/ conductivity as quickly as 1point/sec. The motorized  X-Y stage  uses  a standard wafer chuck or custom sample holder for up to 300mm sample sizes and up to 200mm measurement area.

Standard Features:
Automated X-Y stage with:
100mm x 100mm travel
200mm x 200mm travel (-200 models)
100mm Z-stage travel
Tip-tilt stage with +/-5° travel
Unlimited number of measurement locations in sample map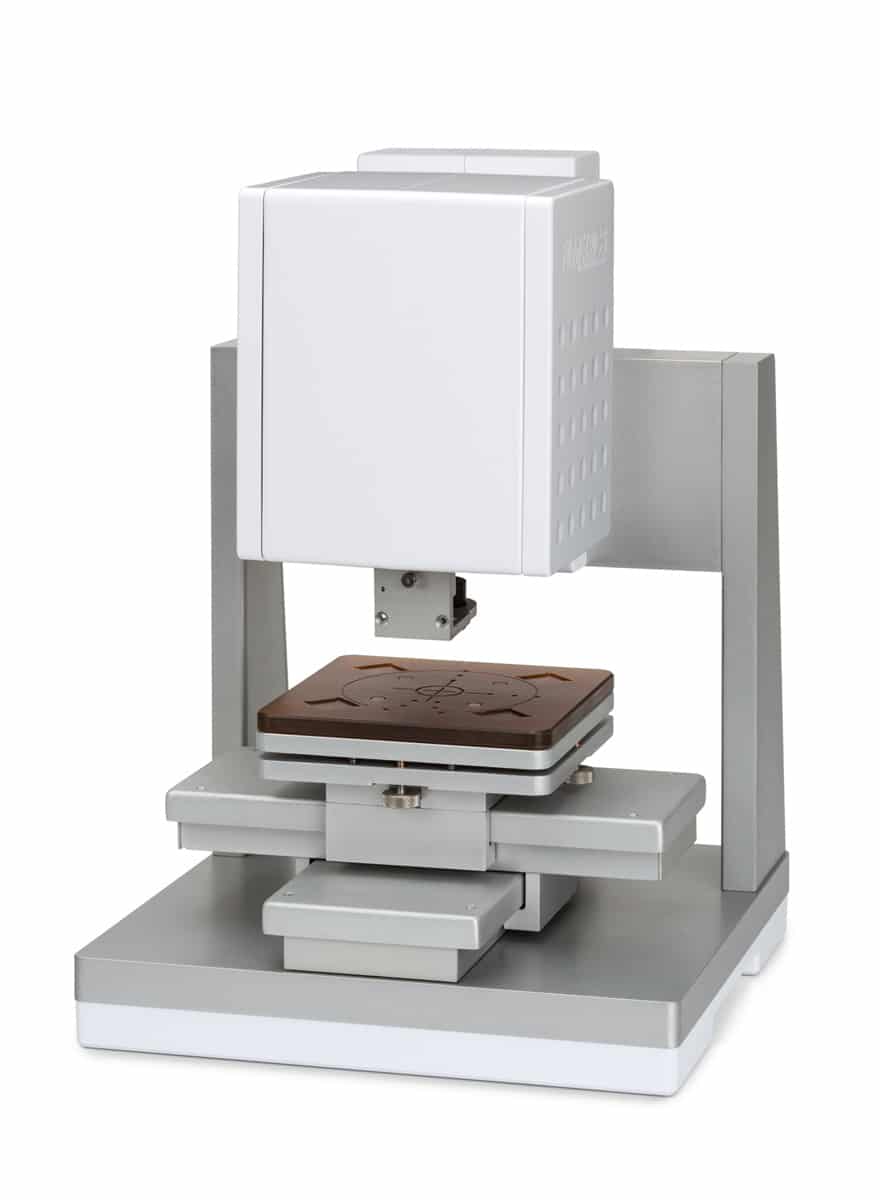 - Four-point probe and eddy-current probe systems
- Sample mapping in rectangular, linear, polar and custom configurations
- X-Y travel up to 200mm
- Measure a ten-decade range of sheet resistance on conductive and semi-conductive films
- Contact and non-contact measurement
R50 Series Software : Measurement Automation

THE MAP PATTERN GENERATOR
The built-in map pattern generator lets you easily generate the spot patterns needed to measure the relevant area of your samples, thus saving time during data acquisition.
Here are only some of the parameters you can adjust to customize your map's properties:
-Round or square maps
-Radial or rectangular patterns
-Center or edge exclusion
-Spot density
MEASUREMENT RESULTS VISUALIZATION IN 2D AND 3D
Whether you are measuring resistivity, sheet resistance, or conductivity,  RsMapper  lets  you display the resulting measurement  maps  in  either  2D or 3D. Switch easily between the maps for the individual measurement parameters and  freely rotate 3D profiles to get an optimal view of the results.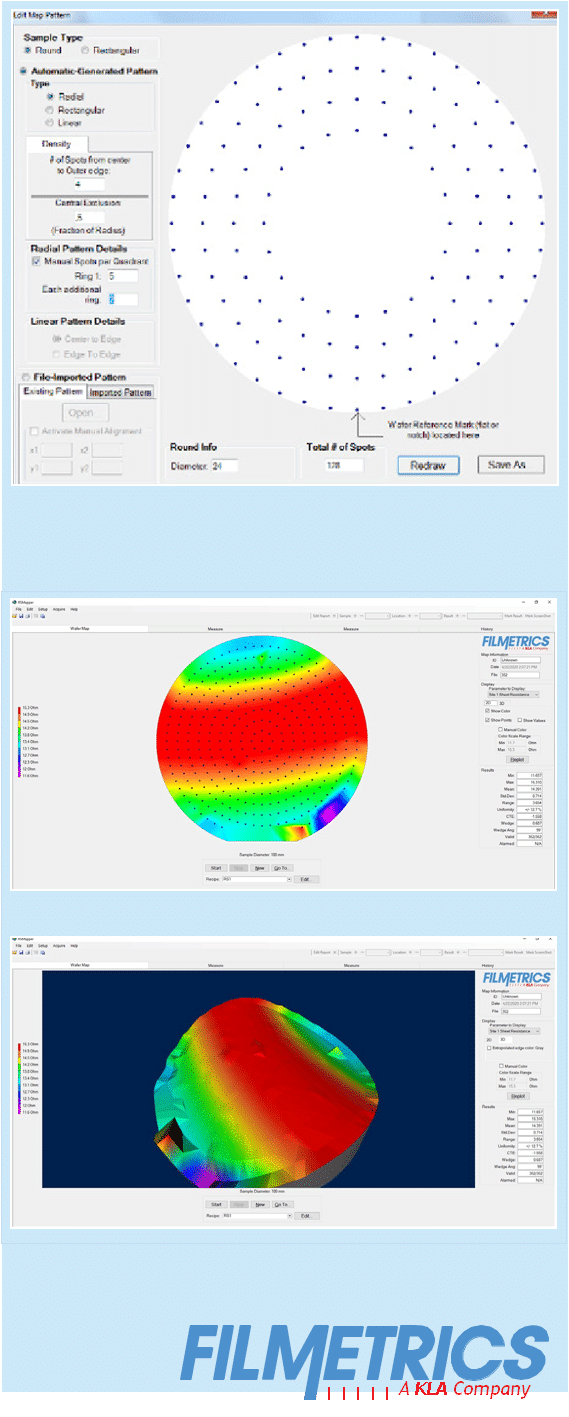 TIWN FILM UNIFORMITY
The RsMapper software generates easy-to-visualize maps of the varying film resistivity. The measured sheet resistance map of a TiWN film pictured below illustrates the variation in film thickness across the wafer due to the deposition process. The map reveals the non-radial variation of the process.
HIGH SIGNAL-TO-NOISE MEASUREMENTS OF A METAL FILM ON SI
The R50-4PP system gives the user the option to review the measurement map as a graph of points relating the resistivity to the time each measurement was made. The plotted points illustrate the quality of the signal-to-noise of the system with varying resistivity. The history tab is an ideal tool
for production use cases and illustrates any point anomalies in a film. These can be traced back to
specific wafer locations and investigated further to diagnose process issues.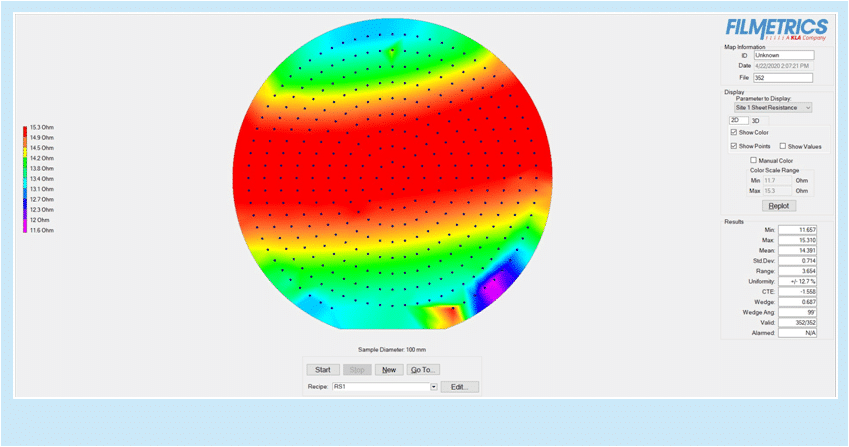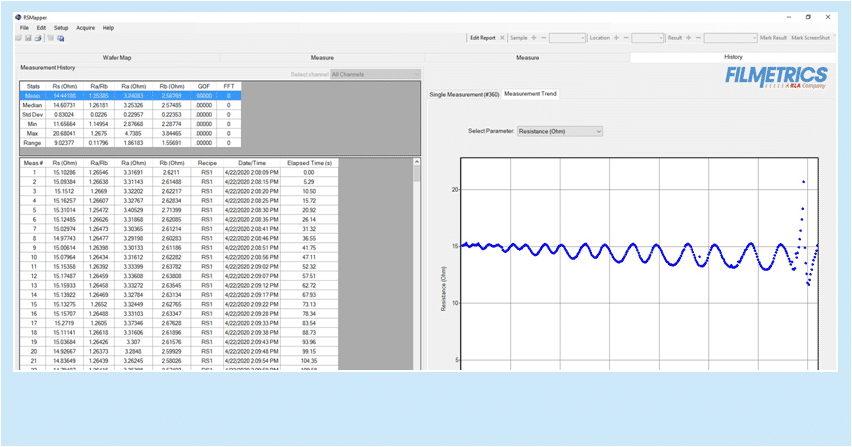 Models (Available Q3 2020)
| Model | Description |
| --- | --- |
| R50-4PP | Uses four-point probe to measure sheet resistance; 100mm travel motorized x-y stage; maps samples up to 100mm in diameter; accommodates samples up to 200mm in diameter |
| R50-EC | Uses non-contact eddy-current probe to measure sheet resistance; 100mm travel motorized x-y stage; maps samples up to 100mm in diameter; accommodates samples up to 200mm in diameter |
| R50-200-4PP | Uses four-point probe to measure sheet resistance; 200mm travel motorized x-y stage; maps samples up to 200mm in diameter |
| R50-200-EC | Uses non-contact eddy-current probe to measure sheet resistance; 200mm travel motorized x-y stage; maps samples up to 200mm in diameter |

General
| | |
| --- | --- |
| Z Range | 100mm |
| Z Stage Type | Automated |
| X-Y Stage Type | Automated |
| Sample Max Weight | 2.5kg |
| Tip-Tilt Stage | +/- 5°, Manual |
Mechanical Performance
| | |
| --- | --- |
| X-Y Stage Range | 100mm x 100mm |
| Sample Max Width | 265mm |
| System Size, W x D x H | 305mm x 305mm x 550mm |
| System Weight | 15kg |
| | |
| --- | --- |
| X-Y Stage Range | 200mm x 200mm |
| Sample Max Width | 365mm |
| System Size, W x D x H | 406mm x 406mm x 550mm |
| System Weight | 22kg |
Electrical Performance 4PP
| | |
| --- | --- |
| Site Repeatability | <0.2% |
| Accuracy | +/- 1% |
| Measurement Range 1 | 5mOhm/sq - 5MOhm/sq |
| Matching 1 | <0.2% |
Electrical Performance EC
| | |
| --- | --- |
| Site Repeatability | <0.2% |
| Accuracy | +/- 1% |
| Measurement Range 1 | 1mOhm/sq - 10Ohm/sq |
| Matching 1 | <0.2% |
4PP (four-point probe)
| | | | | |
| --- | --- | --- | --- | --- |
| Probes | Type A | Type C | Type E | Type F |
| Probe Spacing | 1mm | 1mm | 1.625mm | 0.625mm |
| Probe Contact Radius | 40µm | 200µm | 40µm | 40µm |
Contact us for more information about this product
Would you like an estimation ?
Additional information?
We will reply to you within 24 hours